We have written this blog to help centres on what to do when their secure storage room needs to be altered or moved. This will reduce the time it takes to have the new secure storage room inspected and approved.
What should you do once your centre has identified a need to move or alter the secure storage room?
Step 1:
When your centre has identified what works need to be done, for example moving the secure storage room to a larger space, you should ensure that the new room will meet all the requirements as in section 3, Tables 1 and 2 of the JCQ document Instructions for conducting examinations.
If the room requires the stud walls to be reinforced, ensure that you reinforce all stud walls with metal sheeting or metal mesh as shown below.  These examples are not the only types of mesh or metal sheeting that can be used.
Please note metal cages are not acceptable.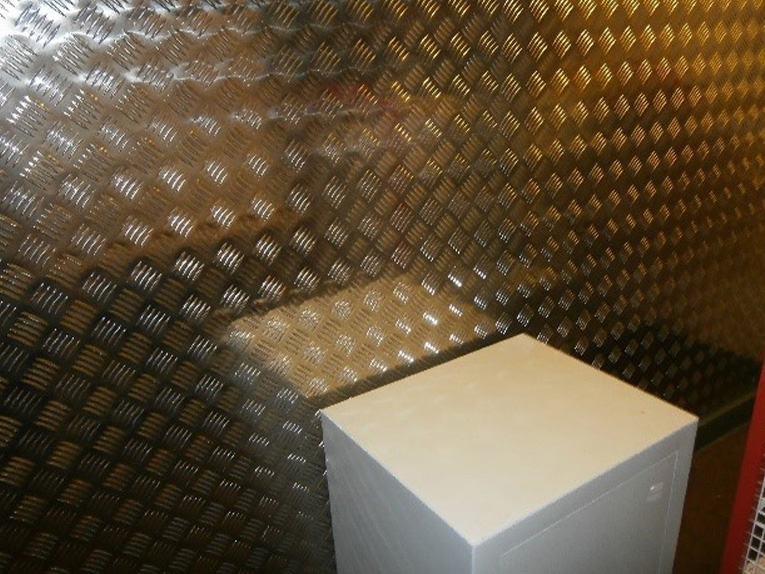 An example of a wall reinforced with metal sheeting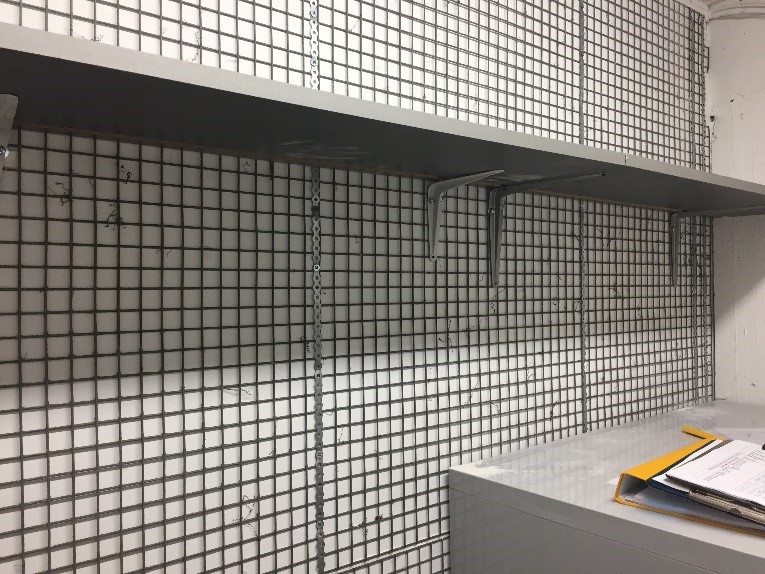 An example of a wall reinforced with metal mesh. The metal mesh must be heavy duty thick mesh, chicken wire is not acceptable.
If you are unsure if the material used will meet the JCQ regulations, the JCQ Centre Inspection Service team will be happy to provide guidance.
Note: Roll down shutters
Where a centre proposes to install a metal security screen such as a roll down shutter, advice must be sought from the respective JCQ Centre Inspection Service team –
England – JCQInspectionService@aqa.org.uk
Wales – jcqinspectionservice@wjec.co.uk
Northern Ireland centresupport@ccea.org.uk
This will allow the centre to run through their plans with the JCQ Centre Inspection Service team prior to commissioning the work.
Note: Where the centre has changed address:
Is your centre in a shared building?  If so, your centre is required to have its own permanently manned reception and should occupy an entirely separate area of the building.
Step 2:
Once the work has been completed and prior to the inspection you should refer to and complete the Are you ready checklist? and check the following:
Has the secure storage room been completed to the requirements of pages 7 – 8 of the Instructions for conducting examinations?  Pay particular attention to whether the walls are solid or need to be reinforced with steel.  Is there any access through the ceiling and is the door solid with a 5 lever mortice lock or equivalent?
(If access is possible through the ceiling, this must be addressed.)
Is the secure storage unit in place?
Is the secure storage room solely assigned to examinations?  For example, there should be no electrical fuse boxes or junctions in the room which may need to be accessed by the maintenance team.  Candidates and staff not involved in the examination process must not have access to the room.  Equipment or resources not relating to the examination process should not be kept in the secure storage room.
Can the secure storage room be accessed by authorised staff at all times so that when confidential materials arrive at the centre they can be taken quickly to the secure room?
Is the secure storage room large enough to walk-into and close the door in order to sort confidential material in private?
Step 3:
You must inform the National Centre Number Register Team (email address –ncn@ocr.org.uk) once your secure storage facility is ready, and no later than 6 weeks prior to moving to a new address or a re-location of the secure storage facility (see the JCQ document General Regulations for Approved Centres, paragraph 5.3 t).  You will be asked to send your completed Are You Ready? checklist.
Step 4:
Your centre will be contacted by a JCQ inspector who will make an appointment to check your arrangements and complete a report form.
Please note that whilst your change of address or secure storage is in progress, unless your existing secure storage arrangements are still in use, a block on secure despatches will be placed on your centre in order to ensure that you are not changing your arrangements whilst holding question papers.
Before you make any changes to your secure storage or change address make sure you're familiar with the JCQ document Instructions for conducting examinations.  One of the consequences of not informing NCN of a change, or making changes that do not meet JCQ requirements, is that awarding bodies may place your centre 'on block' or recall question paper packets.  This will mean that your centre will need to download the question paper(s) from the awarding body's secure extranet site no earlier than 90 minutes before the awarding body's published starting time for the examination.
If you have questions or aren't sure what is required to meet the JCQ regulations, contact the relevant JCQ Centre Inspection Service team for support and guidance.  They're always on hand to help.